We all know that IOTA is much more than a token, it is a revolutionary DLT that aims to be protocol for the Internet of Things. Based on this, it is reasonable to say that the importance of this project has little relation with what its token price reflect by this days. True value relays on its architecture and the many features available as Open Source technology, to allow the community of developers and entrepreneurs to develope PoCs that can be used to improve some problems that we are facing in our daly lives.
We invite you to know one of the most interesting developements that Hamoun Karami and Michael Carmody are working on in their company TWO: IOT Waste Management.
Gabriela Jara
Content Coordinator & Writer
IOTA Hispano
---
If you like what we are doing help us to continue working!
Donate: https://iotahispano.com/donate/

KNOWING THE PROBLEM
Waste is considered one of the biggest environmental problems of our society. The population and the  consumption grow per capita, and therefore the garbage; but the space does not and also its treatment is not adequate. The world's urban population now stands at 3.7 billion people, and this number is expected to double by 2050.
Only at the City of Buenos Aires, in 2017, 17mil tons of waste were generated, and 2500 waste collection trucks are used every day to carry the waste of 15 million people living in the province of Buenos Aires, Argentina and many times the collection service is suspended due to different problems. It cost millions of dollars to collect, manage and remove to the cities, so applying technologies with IoT devices is a very good idea at this point.
KNOWING THE SOLUTION

Within the IOTA Ecosystem web page we can find a company that is facing this problem putting on the table IOTA and the management of waste, recently I had the opportunity to make a brief interview with one of the responsables behind this idea, Hamoun Karami; and he told us that TWO aims to solve inefficiencies in the waste management market by using two core technologies; The internet of Things  and Distributed Ledger Technology. They have developed a little sensor that is able to measure the real-time fill level of waste containers and sends the data to the cloud.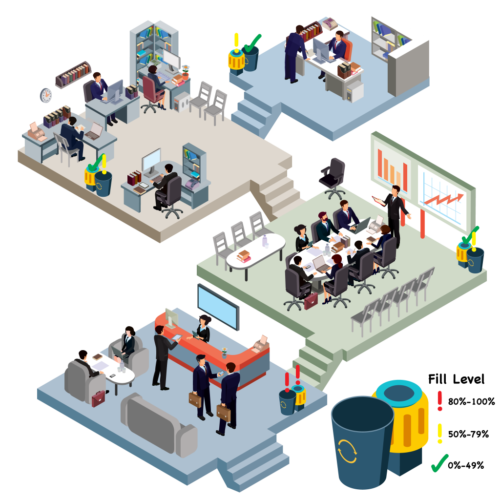 The ultimate vision of TWO is to create an ecosystem where waste management is transparent and autonomous. DLT technology enables us to create a trust-less environment. It also enables to process micro-transactions per bin that is changed. They want to create a future where multiple companies can keep the cities clean and create a more competitive landscape.
Currently they are also working on solving issues with waste auditing. They want to build infrastructures where we are able to view the complete life cycle of a waste bag and track it all the way to the landfill.
THE TEAM BEHIND THIS POC
In the TWO team we will meet Ham Karami CEO & Founder of TWO. He told us hi is passionate about changing the way we manage our waste. He has worked closely with government bodies and passionate smart city implementers and has gained a full understanding of what is required to bring this company from prototype to deployment.
IOT & DLT provide us with the necessary tools to optimize and understand our waste and begin to develop smart, efficient systems that we can replicate in larger scales.
And Michael Carmody – Co-Founder / CFO, He is an experienced commercial product manager with years of experience leading, managing and deploying new hardware products with software heavy systems to the commercial market. At TWO his job is to manage and lead a program involving multiple functions and project teams to drive the engineering development and implementation process for our product and service offering. He also develops and directs development of schedules, critical deliverables, budget, resource allocation plan, and other support requirements. He has helped take two solar companies to IPO and has extensive knowledge in the asian manufacturing market.
THE REASONS WHY
So far we have understood that waste is one of the most important causes of pollution around the globe and that TWO, comes to solve part of the problem through an IoT hardware device that measures real-time fill levels of waste bins. But about the reason they decide to take part in this matter, Karami said that his last startup was similar to this, he created a map where citizens could find garbage bins in Taipei and also report them full. He did this with a few elements in the city. What they realized was that people really didn't care that much, they were just to busy with their own lives. So they created this small IOT sensor to do the job.
THE ADVANTAGES OF USING IOTA/TANGLE?

Waste management has been a very fraudulent space. A lot of illegal things happen in the background. IOTA provides an answer for this and enables to create a system where waste management can be trustless. With IOT technology they are able to build this full story of waste from pickup to landfill.
Also, I've found some interesting points on reddit about this, Two.io said that The Tangle provides a few internal and external benefits:
Internally; they are able to scale to millions of sensors without the associated costs. They can use blockchain technology at its core without having an ICO, pre-sale or token and adding value to the eco-system. They can ensure that the data is secure and tamperproof from the get go i.e If Mcdonalds were to approach us and attempt to bribe us to change the amount of waste they produce so they get taxed less for example.
Externally, IOTA will provide a perfect place to handle micro-payments in areas where Waste Management is privatized or will be automated. They plan to create a waste supply chain using the ledger to start to collect data and understand where our waste comes from, who has produced it and what actionable plans we can make (goverment – corporations) to optimize.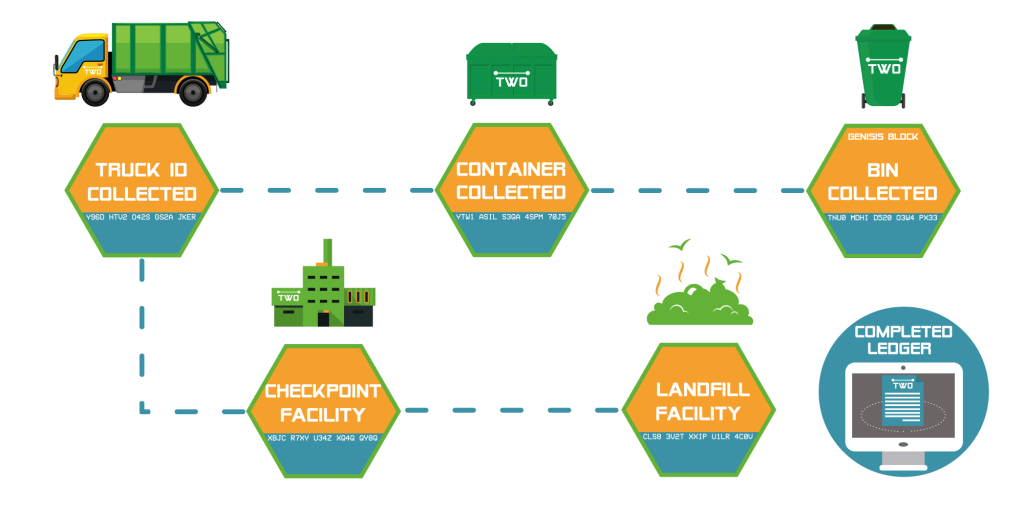 Recently the team has been at the city of Taipei, they want to integrate IoT sensors into the first three floors of the Taipei city hall building. What is the plan? TWO IOT will install IoT sensors that will measure the fill levels of their waste bins in real time. These IoT sensors will use the Tangle network to store the data collected by the sensors to a secure and tamperproof ledger. Biilabs inc. will provide the Tangle DLT engineering services and enable TWO IOT to use IOTA and show the world, that real world applications using IoT & Tangle are very much possible
FINALLY
There is much to be done in areas like this, but after reading all this you get to reallized that when we talk about IOTA we are not only talking about cryptocurrencies and a protocol to use in the distant future. We speak of a decentralized protocol, without costs, that allows micropayments between machines, scalable and open source to use now and that can be implemented in ideas as necessary as those of providing solutions to problems that we face every day.
Give your support to projects like this at IOTA Ecosystem
Comentarios
comentarios