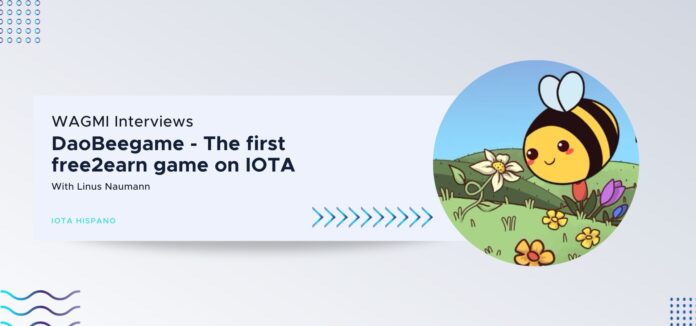 A few weeks ago a new IOTA crypto-gaming project started a lot of buzz on Twitter. Out of nowhere, we saw members of the IOTA community posting a cute little bee in their statuses. It didn't take long until the new project Daobee revealed itself and started to catch everyone's attention. Now we know: IOTA will receive its first Play2Earn and Free2Play game on the Shimmer network!
We couldn't hold our curiosity too long and decided to look for one of the people behind this project (Linus!), to tell us what Daobee is all about and what it will offer to the users who play this game. 
Let's adjust the brightness of our screens to read this interview and find out what the DAOBeeGame team is up to.
---
If you enjoy the work we do and would like to contribute to this project you can 
do so by leaving us a tip in the tip jar. We really appreciate it!
---
Leer en Español
Hi Linus! The arrival of Daobee brings a lot of expectations to the IOTA community. To warm up the engines, could you tell us how this project was born and why? 
Hi Gabi, thanks for having me! Daobee is all about bringing fun and new audiences to the IOTA ecosystem. Our team observed that many people on this planet have not yet really come into contact with crypto, because it is complicated and often not really fun to play with. Even crypto games usually require extensive knowledge about crypto, as well as installed wallets and even expensive NFTs just to get started! 
Daobee will be radically different. It will be completely free to play, everyone is invited! You can start to play right away without having any wallets installed or paying for NFTs. On Daobee players will create art together, both texts as well as pictures, and sell the results as NFTs. If the artwork is sold, the earnings are shared between the players, Daobee, and $BEES token stakers. Since Daobee is both Free2Play and Play2Earn we call it "Free2Earn".
Certainly, gaming will be a great gateway for those who still do not know the crypto world, but we also know that these games are not accessible to everyone and that playing them on other networks can cost a few dollars. Is Daobee different from the rest?
The biggest difference between Daobee and other crypto games is that everyone will be able to play it for free, directly in their browser. Having virtually no barrier to entry will attract completely new, even crypto-naive audiences. However, players will only be able to EARN while playing, if they also install an IOTA wallet! This way many will do their first step into the world of crypto and IOTA.
Could you tell us a bit about the dynamics? What do we need to play, how can we interact, and what can we win? 
Everyone can start a new game by setting a title for the (not yet existing) artwork and a timer. Within the given time all players create their most exciting, creative, or funny picture or text fitting to that title. At the same time, all players vote on which suggestion is the best one. The winning suggestion becomes the next official version of the artwork and the game continues for a set number of rounds or until the players agree to end it.
The resulting artwork is then put up for public auction as an NFT! If it gets sold, all players who contributed winning suggestions will earn their share of the profits. Other parts of the profits go to Daobee itself and $BEES token stakers.
Recently we have seen that Daobee has partnered with many other NFT-projects. How do you collaborate with each other? 
On Daobee NFTs will unlock all kinds of functional and cosmetic features, such as awards, emoji sets, timer manipulation, and many more. For this, all NFTs in a connected wallet add together to raise your personal "Honey-meter". The higher it goes, the more features you unlock! 
However, Daobee wants to connect the whole IOTA NFT ecosystem. And so not only Daobee NFTs will count to your Honey-meter – NFTs of partnering projects will do so too! That's why we partnered with many very reputable projects in the ecosystem, like ShimmerSea (and their Lumis), IOTAbots, Moonaco Captains, and many others.
You told us that there will be a Marketplace where players will be able to sell their creations, does that mean that to trade within the platform a token will be needed, and Daobee will have its own token? 
Daobee will use the NFT marketplace infrastructure of existing projects like Soonaverse for NFT-auctions and trades. All auctions and trades will be able to be done with real IOTA or Shimmer tokens as well as Daobees own $BEES currency. 
$BEES can be staked to take part in the revenue streams from in-game purchases and NFT-auctions too.
A development of this magnitude must also require some «pollen» to grow and continue producing «nectar or honey» could you tell us how else the Daobee project is financed?
We will try to fund ourselves via NFT crowdfunding. For this, we will offer 3000 Daobee Family NFTs starting from the 9th of May on Soonaverse. The Daobee family consists of five cartoon characters that resemble our team of 5 at Daobee! All holders of these NFTs will participate in large $BEES airdrops (in total 15% of all $BEES will be airdropped to Daobee family holders). The more NFTs you own, the more $BEES you get. If you own several different characters your rewards even get multiplied! On top of that there will be 100 "Golden Daobee" NFTs, which will further triple your $BEES airdrop.
The price for Daobee characters will be 250 Mi, the Golden Daobees come at 999 Mi.
And finally, as it happens at the end of the big concerts, could you introduce us to who are the Daobee team and what instruments they play? 
Haha, well I guess since I do much of the talking I would be the singer. Beny would play the guitar, cause he's bringing lots of melody and ideas into the projects. Patrick does the drums because he's keeping the rhythm for all of us. Razz does the fancy, artful keyboard as our designer and Felicia plays the bass and supports us with a nice ground layer of good vibes.
We thank Linus for the interview and leave you with links to learn more about this amazing project. 
DAObeegame: Twitter | Discord | Website 
Comentarios
comentarios