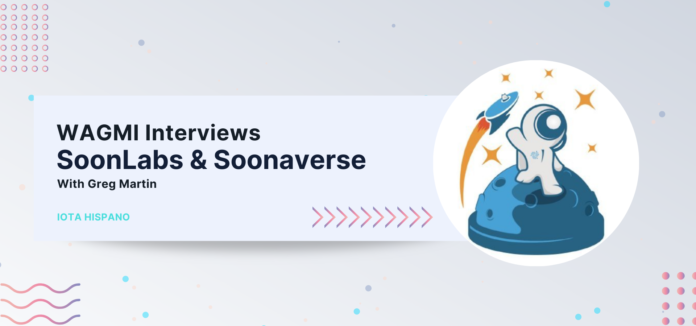 Since the improvements in the IOTA protocol and all the use case possibilities that this has opened up, we are witnessing an incredible increase in the number of IOTA-related development projects.
In this series of interviews, we will learn a bit more about these projects and who is behind them.
Our guest today for these WAGMI interviews is one of the Founders of a new project within the IOTA ecosystem. He is Greg Martin, an active member of the community for some years now, almost a pioneer. Not long ago, he, together with other community members, started a project that is growing by leaps and bounds: SoonLabs and the platform Soonaverse.
---
Trabajamos para traerte el mejor contenido sobre el Multiverso IOTA, 
si te gusta lo que hacemos puedes dejarnos una propina en nuestro TipJar
---
Hi Greg, thank you for granting us this interview. First of all, could you tell us a little bit about yourself? Where are you from, how long have you been involved in IOTA, and a little bit about your background?
First off, thank you for the opportunity to talk with you I'm flattered.
A bit about me: I live in the Seattle area, not far from Microsoft. I've been involved with the technology scene here and in Silicon Valley over the years.
I got into IOTA in 2017, so I've basically seen it all. It's great to see the IF and the community evolve and grow into what we are today. A force that is about to change the world.
Regarding my background, I've been involved with several technology startups as a Founder Serving as Sales Leadership, coupled with product and market strategy. In the startup world, you end up doing a bit of everything, basically whatever needs to be done. I've been lucky enough to have had a couple of successful exits. One of which was to a Fortune 500 company.
Being a member of the community so long ago, you had the opportunity to see the transformation of the IOTA protocol. How do you see IOTA today?
We have come a long way. We should be proud that the IF and the community kept the faith, and that we've been able to pivot successfully to a whole new codebase with a strong ecosystem. I'm excited to see how the world leverages the Tokenomics framework, ISCP, Shimmer, and Assembly. So many possibilities!
You are part of SoonLabs, a project that we have seen born a couple of months ago and that has grown rapidly within the community. Can you tell us about this project, how it was born, what it allows you to do, and who are the other members who created this project?
The start of Soonlabs really began when Adam_unchained and I decided to team up to submit a proposal to the IF to develop the Voting platform for the Build vs Burn Vote.
As Adam and I were formulating our proposal,l we realized that if the Vote by the community was "YES, let's Build a Treasury», the community would be expecting to have a DAO system to run the DAO. That was the genesis idea for Soonlabs.
From that point on we decided to look for complimentary team members within the community to form our team. We looked for members that had long-standing within the community, individuals of integrity that possessed the skills we needed for all facets of the business.
I have to say I love my team, it is the best group of individuals I have had the good fortune to work with. They are so fun to work with and they all execute with precision and excellence.
They are:
Adam_unchained– Lead Developer, Architect, and Strategist.
Tangle Accountant – Head of Finance, Founder of Defi Academy, Strategy.
Dave[EF] – Operations, Testing, Support, and Strategy.
Shonuff – CMO, Strategist. AKA the man who can do the impossible with a shoestring budget.
Gman214 – Responsible for Sales, Strategy and Alliances.
IOTABen & MerloNFT – In charge of the (great) design.
This team came up with the concept of the Soonaverse.
The Soonaverse is a decentralized platform for communities, enabling the seamless creation, management, and interoperability of DAOs, projects, and groups.
At the Soonaverse we believe all DAO Voting should be Free and Securely On-Chain.
Soonaverse is also somehow designed to allow communities to create or be part of a DAO. Can you ELI5 what a DAO is and what this organization allows?
DAO stands for a decentralized autonomous organization.
I love this definition of a DAO by Cooper Turley.
DAOs can come in all shapes and structures, but simply put, "a DAO is an internet community with a shared bank account"
Basically, a small group of people come together to form a chat group, and then they decide to pull capital together, [typically] using an digital wallet," From there, they decide how to fund their DAO's mission collectively.
As I mentioned earlier in the interview. The Soonaverse is a decentralized platform for communities, enabling the seamless creation, management, and interoperability of DAOs, projects, and groups.
The Soonaverse provides feeless proposal creation and voting that is securely On-Chain.
Another key feature is the Badge Reputation system, this is used to reward DAO members and convey reputation throughout the Soonaverse.
Breaking NEWS: The Soonaverse just announced a Feeless NFT marketplace that is deeply integrated into the platform. There are absolutely no fees to mint, sell or trade NFTS!
Do you know how many communities and users are actively using Soonaverse today? What would a user need to know or have in order to use the platform?
Presently we have over 400 Spaces which are DAOs, Groups or projects on the platform. I think we are over 10,000 users with an active engagement of 33%. This is before our NFT Marketplace has launched. We expect a dramatic uptick.
There are no fees to open a Space and use the tools provided by the Soonaverse. It is Feeless.
What is your vision as a project for the future, what expectations do you have or what would you like to achieve?
We want the Soonaverse to be a DAO on Demand platform for all communities. Both in and outside of the IOTA community bubble. Where Feeless Voting Securely On-Chain becomes the standard for all DAO voting.
A platform that demonstrates to the world the power of Feeless.
A place where communities come together and leverage the power of people working together for a common purpose through a DAO. Where the power is in the hands of those that do the work.
We want our new Feeles NFT Marketplace to attract new users from other chains and ecosystems.
For DAOs we've provided a new way to fund their Treasuries thru NFT sales. We want to be a leader in helping DAOs sustain and replenish their treasuries.
We will continue to drive innovation in the DAO space to become a key leader and innovator in the space.
Finally, is there anything that we haven't mentioned before that you would like to add?
These are truly exciting times for the IOTA community. All the pieces are coming together on the technology side as well as a new swell of activity within our ecosystem.
Comentarios
comentarios