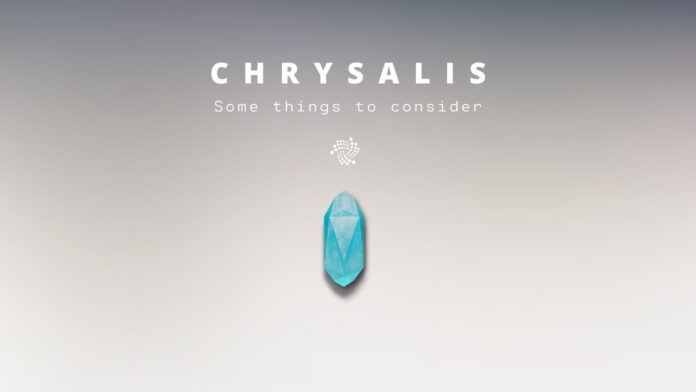 Questions underlying the launch of Chrysalis and the migration of your tokens have surely arisen as the days went by. With 2 days to go before the launch of the new network, in this post we are going to recapitulate some important points you should keep in mind before Chrysalis.
Pay attention, there are only a few days left!
Firefly for desktop only
At this early stage, Firefly is only available for desktop. The operating systems available are Windows, Mac and Linux.
When you download Firefly Desktop, please verify its authenticity to make sure that you downloaded the correct one from the IOTA Foundation GitHub repository. Verify the SHA256 hash.
Please note the following:
If you hold tokens on Trinity desktop you will only need to enter the seed or SeedVault file into the new Firefly wallet and it will walk you through the process.
If you are holding your IOTA tokens on Trinity mobile, you can either enter your seed manually or import the SeedVault using the new desktop wallet.
The mobile version of Firefly is under development, but will soon be released as well.
If your tokens are on an exchange, they will handle the process for you.
If you decide to migrate now, your funds will be visible in the wallet but you won't be able to make any transactions until 4/28 when Chrysalis is launched.
Another thing to keep in mind is that in order to protect the network against Dust attacks (Dust attacks or Dust protection), the network does not allow migration of addresses with amounts less than 1Mi. Therefore, if you have addresses with <1Mi you will have to send all those amounts to a single address in order to migrate them.
Some little explanation about Dust
As IOTA has no fees and has the ability to send micro transactions, attackers could use this to spam the network with very low value transactions, what we call dust. To avoid this, we only allow micro transactions below 1Mi (we call these minimal transactions dust) of IOTA tokens to another address if you already have at least 1Mi as allowed dust output at that address. The number of allowed dust outputs in an address is the amount of dust allocation outputs divided by 100,000 and rounded down, i.e. 10 outputs for every 1 Mi deposited, with a maximum of 100 dust outputs in total.
Not all exchanges will support the migration on the same date
It has already been mentioned that exchange migration is not an easy task. Although the migration toolkit has already been provided by the IOTA Foundation, exchanges have different timelines for this kind of changes.
Here is a list of the exchanges about which there is news:
Bitpanda will fully support Chrysalis at launch.
Bitfinex will fully support Chrysalis at launch. Withdrawals and deposits will be paused from 4/27 9AM UTC and will return to normal once the migration process is completed.
Atención a los usuarios de @Bitfinex los depositos y retiros de #IOTA estarán pausados desde el 27/04 y estarán pausados una vez que el upgrade de #Chrysalis esté completo.#Migración https://t.co/FJxL9HFi30

— IOTA HISPANO (@IotaHispano) April 26, 2021
Binance will fully support Chrysalis after launch. This exchange will suspend IOTA deposits and withdrawals from 2021-04-26 01:00 PM (UTC), to support the migration of IOTA tokens (IOTA) to the Chrysalis Network. Please be sure to allow sufficient time for your IOTA deposits to be fully processed before this time. If IOTA tokens are deposited after this time, they will not be credited to your account.
Atención usuarios de #Binance @binance suspenderá los depósitos y retiros de IOTA a partir del 2021-04-26 01:00 PM (UTC) para realizar la migración a la nueva red #Chrysalis.
Más detalles en el post de hoy 👉🦋https://t.co/ft87KH185i https://t.co/sld6OamhEm

— IOTA HISPANO (@IotaHispano) April 26, 2021
Upbit is currently working on Chrysalis integration.
OKEx will start with Chrysalis integration in May.
Huobi will start with Chrysalis integration in May.
Bittrex has received all necessary documentation and information. No written confirmation has yet been received as to when they will support the integration.
Liquid has received all necessary documentation and information. Written confirmation has not yet been received as to when they will support the integration.
SouthXchange will not support the migration so they recommended the withdrawl of all of your IOTAs at the exchange.
CoinFalcon will not support the migration so they recommended the withdrawl of all of your IOTAs at the exchange.
Some significant changes coming with Chrysalis
In order to optimize the IOTA core network for both users as well as devs, the network will undergo an update to the core network called Chrysalis. There are many significant changes that will be visible to the naked eye from Chrysalis, but other equally important changes will occur, such as the change of the trinary feature that was implemented since its inception will be converted to binary. We list some of these below:
A 24-word mnemonic retrieval phrase, replacing the old 81-character seed.
IOTA is no longer based on ternary code. IOTA 1.5 uses binary code to encode and transmit all underlying data entities.
The advantages of switching to binary transactions further reduces the size of transactions, saving network bandwidth and processing time.
The addresses are similar to those used by Bitcoin, the EdDSA more precisely bech32. These addresses unlike WOTS (Winternitz one time signature) allow the reuse of private keys and thereby introduce reusable addresses into the protocol. This change also drastically reduces the size of transactions, saving network bandwidth and processing time.
A new way to keep our tokens safe in the wallet: Stronghold. IOTA Stronghold is a secure software implementation with the sole purpose of keeping digital secrets isolated, thus preventing exposure to hackers and accidental leaks. It uses encrypted snapshots that can be easily backed up and securely shared between devices. In the latest IOTA Talks Charlie Varley, recommended frequent Stronghold backups. These backups, for the time being will need to be done manually but they will look at ways to simplify this process later.
In the #IOTA Discord at #general channel an Xteam member: Jeroen van den Hout (jvdhout#4402) explained about a feature that we will no longer see in the new Firefly: messaging. It will not be possible to send messages with Firefly. With the advent of Chrysalis you can send data without transferring funds in Chrysalis, however, this is not possible with Firefly.

Is this a disadvantage? No. Firefly, unlike Trinity, is intended to be used only as a wallet that supports value transactions and not as a messaging application. 0-value transactions will no longer be able to be made using the wallet, they must transfer funds. He also explained that the purpose of Firefly is to handle value related functionality, and with the new messaging structure it can handle this in complete isolation from other data, having multiple advantages such as no more zero value transaction spam appearing in your wallet. If you want to know more about how messaging will work within the Tangle, you can visit the IOTA Foundation's website.
With IOTA 1.0, you always had to reference 2 parent transactions. With Chrysalis, we introduce a more dynamic number of parent nodes where you can reference up to 8 transactions. It is recommended to reference at least 2 parent transactions at all times for best results.
Just finished the pull request for "multiple parents" in #iota.go.
Next step: Implement the needed changes in the #hornet code.

I'm looking forward to see how the tangle will look like if "one transaction confirms two others" changes to "one transaction confirms max 8 others" 😎

— muXxer (@der_muXxer) January 24, 2021
Some useful links
Chrysalis Documentation 
Chrysalis Status
IOTA Discord
Firefly verification using Sha256 hashing
---
Acknowledgement:
The cover of this post was inspired by an original design made by community user IOTABeeliever. Thanks for sharing with us your creativity!
Comentarios
comentarios